Issue # 4
Line Break Reading Series
Saturday, February 4, 2017, 3:00-4:30 p.m.
Hosted by William Shunn
Q.E.D.: A Place for Show & Tell
27-16 23rd Avenue
Astoria, NY 11105
Admission $7. Beer, wine and snacks available.
Jacob M. Appel
is the author of several novels and plays, and more than 200 short stories. He practices psychiatry in New York City.
Sydney Beveridge
has produced stories for BBC Radio, WNYC, SiriusXM, Third Coast International Audio Festival, and Public Radio Exchange. She co-hosts Free Mic Fridays at Q.E.D.
Richard Jeffrey Newman
is Professor of English at Nassau Community College in Garden City, NY. As a poet and essayist, his work explores the impact of feminism on his life as a man.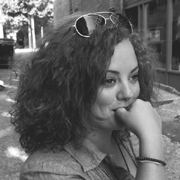 Sarah Riccio
lives, writes, and slings beer in Astoria.
Oscar Sanders
was born and raised in the Bronx, NY. The former jazz/funk/rock guitarist has garnered awards for shorts, feature, documentary films, and a political crime novel.