Issue # 5

Line Break Reading Series
Saturday, March 4, 2017, 3:00-4:30 p.m.
Hosted by William Shunn

Q.E.D. - A Place to Show & Tell
27-16 23rd Avenue
Astoria, NY 11105

Admission $7. Beer, wine and snacks available.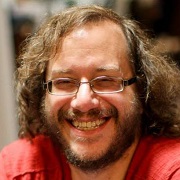 Keith R.A. DeCandido
is the best-selling, award-winning author of numerous novels, short stories, comic books, and more—some in various licensed universes, like
Marvel, Star Trek, Supernatural, Sleepy Hollow, Heroes Reborn,
and
Stargate SG-1,
among many others, others of his own creation.
Emily Alta Hockaday
is author of the poetry chapbooks
Ophelia: A Botanist's Guide, What We Love & Will Not Give Up,
and
Starting a Life.
Her work has appeared in the
North American Review, Spoon River Poetry Review,
Amazon's
Day One,
and
Newtown Literary,
among other publications.
Barbara Krasnoff
has published over thirty pieces of short fiction. She is the author of a YA non-fiction book,
Robots: Reel to Real,
and her short story "Sabbath Wine" has just been nominated for the Nebula Award.
Jonathan Sumpter
wrote his first novel, a tale about spies, when he was 11. Since then he has been laboring to write a second one that he'll be just as happy with.
Andrew Willett
is an editor at
The New York Times.
His fiction has appeared in the anthology
Thoughtcrime Experiments
and, most recently, the finalists' anthology from this year's Saints and Sinners Literary Festival.
---