Issue #15
Line Break Reading Series
Saturday, January 6, 2018, 3:00-4:30 p.m.
Hosted by William Shunn

Q.E.D. - A Place to Show & Tell
27-16 23rd Avenue
Astoria, NY 11105

Admission $7. Beer, wine and snacks available.
Robert J. Howe
has published poetry in
50 Haiku
and
Serving House Journal,
and has poems forthcoming in
The Dawntreader
and
Main Street Rag.
His short fiction has appeared in
Salon.com
and
The Flatbush Review,
the magazines
Analog, Electric Velocipede,
and
Black Gate,
and the anthologies
Newer York
and
Happily Ever After.
Olena Jennings
is the author of the collection of poetry
Songs from an Apartment
. Her translations of Ukrainian poetry appeared in the anthologies
Words for War
(together with Oksana Lutsyshyna) and
The White Chalk of Days
. Her fiction has been published in
Joyland, Pioneertown,
and
Projecttile.
She is the author of the forthcoming novel
Shut Mouth.
David Barr Kirtley
is the host of the
Geek's Guide to the Galaxy
podcast on
Wired.com
, for which he's interviewed well over 300 amazing guests. His
short fiction
appears in magazines such as
Realms of Fantasy, Weird Tales, Lightspeed,
and
Intergalactic Medicine Show,
on podcasts such as
Escape Pod
and
Pseudopod,
and in books such as
The Living Dead, New Cthulhu, The Way of the Wizard,
and
New Voices in Science Fiction
.
Kurt Olsson
has published two collections of poetry,
Burning Down Disneyland
and
What Kills What Kills Us.
His poems have appeared in many journals, including
Poetry, FIELD, The New Republic, Southern Review, Poet Lore,
and
Antioch Review.
He lives and works in Bethesda, Maryland.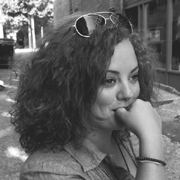 Sarah Riccio
lives, writes, and slings beer in Astoria. She is a Line Break regular known for her caustic and provocative essays, who has also been seen at Taboo Tales NYC.
---