Issue #19
Schedule Change Alert!

Please note that our June episode will take place at the special time of 5:00 pm.
TRANSIT NOTE: Q.E.D. is usually a short trip from Manhattan on the N train to Astoria–Ditmars Blvd in Queens. However, planned construction will disrupt train service the weekend of June 2nd. Shuttle buses will run from Queensboro Plaza to Astoria–Ditmars Blvd. Please leave yourself plenty of extra time for travel, at least thirty minutes to be safe.
Line Break Reading Series
Saturday, June 2, 2018, 5:00-6:30 p.m.
Hosted by William Shunn

Q.E.D. - A Place to Show & Tell
27-16 23rd Avenue
Astoria, NY 11105

Admission $7. Beer, wine and snacks available.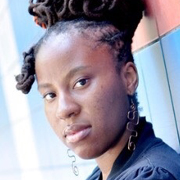 Sherese Francis
is a Southeast Queens–based poet, writer, blogger and literary curator. She has published work in journals and anthologies including
Art in Odd Places, Bone Bouquet, African Voices, Newtown Literary, Blackberry Magazine, Kalyani Magazine,
and
Near Kin: A Collection of Words and Art Inspired by Octavia Estelle Butler.
In August 2017, she published her first chapbook,
Lucy's Bone Scrolls: The Black Speculative Mystery School.
Emily Alta Hockaday
is a poet and editor living in Queens. Her forthcoming chapbook,
Beach Vocabulary,
will be out with
Red Bird Chapbooks
later this year. She is author of three previous chapbooks:
Ophelia: A Botanist's Guide, What We Love & Will Not Give Up,
and
Starting a Life.
Michael Libling's
fiction has appeared in
The Magazine of Fantasy & Science Fiction, Asimov's Science Fiction, Amazing Stories, SciFiction, Realms of Fantasy, OnSpec,
and several anthologies. His novel
Hollywood North: A Six Reeler,
based on his World Fantasy Award–nominated novella, is forthcoming from ChiZine Publications.
Kurt Olsson
has published two collections of poetry,
Burning Down Disneyland
and
What Kills What Kills Us.
His poems have appeared in many journals, including
Poetry, FIELD, The New Republic, Southern Review, Poet Lore,
and
Antioch Review.
He lives and works in Bethesda, Maryland.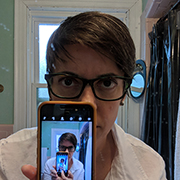 Julie Threlkeld
has been performing in storytelling shows in and around New York City since 2011. She has appeared in shows like
RISK!, Talk Therapy Stories, New York Story Exchange,
and
The How I Learned Series,
to name just a few. She is also the creator and host of the
Modern Stories Mix
podcast.
---