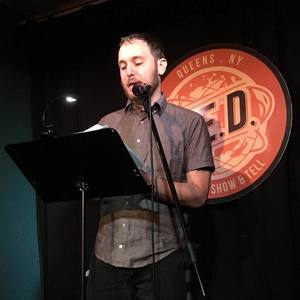 Hello again, Line Break fans! As a reminder, we're on hiatus for the month of May, so we won't be having a show this Saturday at Q.E.D. However, we don't want to leave you high and dry for the month, so we'll be popping up from time to time to tell you about some wonderful things to read.
First up, back in November our friend Sam J. Miller stopped by to read for us from his novel The Art of Starving. Well, we're happy to report that Sam's new novel, Blackfish City, has just come out. Not only is it well worth your time to check out, but Sam appeared on NPR's "Weekend Edition" a couple of weeks ago to talk about it with host Scott Simon!
audio: talking with author sam j. miller about 'blackfish city'
It really is a charming interview, so please give it a listen. Then buy yourself a copy of Blackfish City!
And please mark your calendars for Saturday, June 2nd, when we'll return at the special time of 5:00 pm for Line Break #19, featuring World Fantasy Award nominee Michael Libling, Afrofuturist author Sherese Francis, poet and editor Emily Alta Hockaday, storyteller and essayist Julie Threlkeld, and poet Kurt Olsson. Don't miss it!