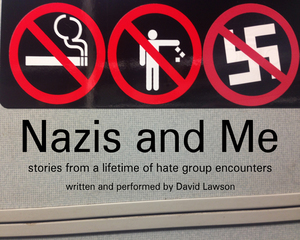 Hey, Line Break fans! If you were at our show on
October 6th
, you heard powerful excerpts from David Lawson's new one-man show,
Nazis and Me.
And even if you weren't there, you won't want to miss this thought-provoking performance about run-ins with hate set in a time where hateful Americans feel a strong sense of comfort:
right now.
Nazis and Me debuts tonight at Under St. Marks in Manhattan's East Village, with subsequent performances October 16th, November 6th, and November 13th. Grab your tickets now! It's almost as satisfying as punching a Nazi.
Nazis and Me
Under St Marks Theater
94 St Marks Pl
New York, NY 10009
Tickets: $7 and $10