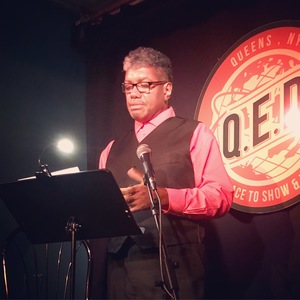 A gigantic thanks to everyone who turned out for our twenty-second regular episode of
Line Break
this past Saturday, at beautiful
Q.E.D.
in Astoria, Queens. Just by showing up and giving us the gift of your attention, you helped make the afternoon bigger and better than it would have been without you.
Thanks as always to Q.E.D. for giving us the space and an opportunity to use it. And thanks especially to our amazing readers, who made it the fantastic show it turned out to be. Host William Shunn brought us the Devil's defense of God. Jared Harél brought us lovely domestic poems from his book Go Because I Love You. Thomas March in turn shared thoughtful meditations from his collection Aftermath. Steven Alvarez delivered fierce panlingual delights from his The Codex Mojaodicus. Kem Joy Ukwu tantalized us with two fragments from her story collection, Locked Gray/Linked Blue. And finally, the mighty Bob McNeil shook the room with poetic ruminations from his book, Verses of Realness.
If you couldn't make it out on Saturday, please mark your calendar for Saturday, October 6th, when we'll we back with our twenty-third issue featuring Connor Coyne, David Lawson, Emre Tetik, Joshua Tong, and more.
So sign up for our mailing list and keep abreast of all the latest developments in the Line Break world. And finally, if you're interested in participating in a future Line Break, do send us a submission.
We look forward to seeing you again in October! Until then please check out all the terrific shows and events at Q.E.D. There is something amazing happening there literally every day.