TRANSIT NOTE: Q.E.D. is usually a short trip from Manhattan on the N train to Astoria–Ditmars Blvd in Queens. However, planned construction will disrupt train service the weekend of June 2nd. Shuttle buses will run from Queensboro Plaza to Astoria–Ditmars Blvd. Please leave yourself plenty of extra time for travel, at least thirty minutes to be safe.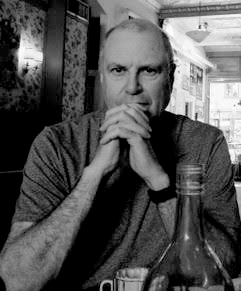 Michael Libling's fiction has appeared in The Magazine of Fantasy & Science Fiction, Asimov's Science Fiction, Amazing Stories, SciFiction, Realms of Fantasy, OnSpec, and several anthologies, including Ellen Datlow's Year's Best Fantasy & Horror and Gordon Van Gelder's recent Welcome to Dystopia: 45 Visions of What Lies Ahead. His novel Hollywood North: A Six Reeler, based on his World Fantasy Award–nominated novella, is forthcoming from ChiZine Publications.

As for day jobs, Michael has been a talk radio host, a newspaper columnist, and ad agency creative director. The father of three daughters, Michael lives in Montreal with his wife, Pat. For the whole unseemly story, go to www.michaellibling.com.
Please join Michael and all our spectacular readers for Line Break #19, Saturday, June 2, 5:00 p.m. at Q.E.D. in Astoria. Tickets are only 7 bucks!