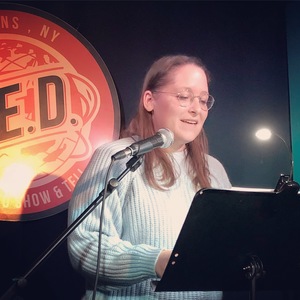 A gigantic thanks to everyone who turned out for our eighteenth regular episode of
Line Break
this past Sunday, at beautiful
Q.E.D.
in Astoria, Queens. Just by showing up and giving us the gift of your attention, you helped make the afternoon bigger and better than it would have been without you.
Thanks as always to Q.E.D. for giving us the space and an opportunity to use it. And thanks especially to our amazing readers, who made it the incredible show it turned out to be. Madina Papadopoulos brought us a backroom portrait of Cinderella's stepsisters. Stephanie Grossman delighted us with tales botched directions and random meetings gone right. Theresa DeLucci unsettled us with an enumeration of the murderers we meet in our lives. Jackie Sherbow read us her evocative poetry. Justin Weinberger took us gambling with Mark Twain on the Mississippi after the zombie apocalypse. And host William Shunn introduced us to a poetic puppy at the crossroads of racial relations.
If you couldn't make it out on Saturday, please mark your calendar for Saturday, June 2nd, when we'll be back at the special time of 5:00 pm with our nineteenth issue, featuring World Fantasy Award nominee Michael Libling, Afrofuturist author Sherese Francis, poet and editor Emily Alta Hockaday, storyteller and essayist Julie Threlkeld, and poet Kurt Olsson. (Yes, we're taking a hiatus for the month of May, but only so we can rise up bigger and stronger than ever before!)
So sign up for our mailing list and keep abreast of all the latest developments in the Line Break world. And finally, if you're interested in participating in a future Line Break, do send us a submission.
We look forward to seeing you again in June! Until then please check out all the terrific shows and events at Q.E.D. There is something amazing happening there literally every day.