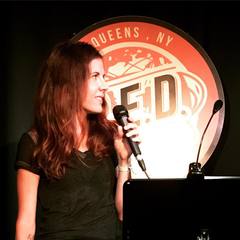 A gigantic thanks to everyone who turned out for our twelfth regular episode of
Line Break
this past Saturday, at beautiful
Q.E.D.
in Astoria, Queens. Just by showing up and giving us the gift of your attention, you helped make the afternoon bigger and better than it would have been without you.
Thanks as always to Q.E.D. for giving us the space and an opportunity to use it. And thanks especially to our amazing readers, who made it the incredible show it turned out to be. Dennis Pahl brought us absurd, surreal stories and film. Susana H. Case read poems of youthful adventures in a younger New York City. Ilana C. Myer evoked a world where poets wield ultimate power. Norman Stock's dry poetry skewered and illuminated everything from hunting to religion to priapic teens to writing workshops. And Julia Wertz treated us to a dazzling series of images from her new book, Tenements, Towers & Trash: An Unconventional Illustrated History of New York City.
If you couldn't make it out on Saturday, please mark your calendar for Saturday, November 4th, when we'll we back with our thirteenth issue, featuring Austin Grossman (Crooked, You, Soon I Will Be Invincible), Sam J. Miller (The Art of Starving, Blackfish City), Kem Joy Ukwu (Locked Gray/Linked Blue), Matthew Kressel (King of Shards), and legendary poet David Mills (The Dream Detective, The Sudden Country).
So sign up for our mailing list and keep abreast of all the latest developments in the Line Break world. And finally, if you're interested in participating in a future Line Break, do send us a submission.
We look forward to seeing you again in November! Until then please check out all the terrific shows and events at Q.E.D. There is something amazing happening there literally every day.