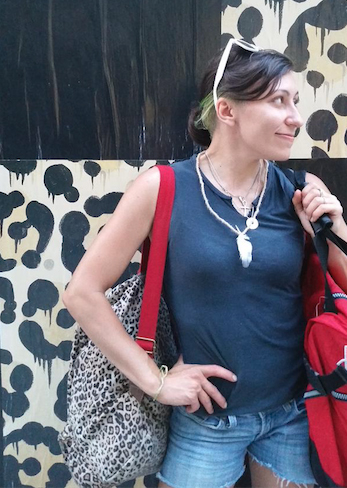 Celebrated for her dynamic presence on stage and on the page, Queens native Audrey Dimola is a poet, performer, curator, connector, and lifelong artist. She is also Director of Public Programs at her beloved Socrates Sculpture Park in Long Island City. Audrey is the author of two poetry & prose collections, Decisions We Make While We Dream (2012) and TRAVERSALS (2014), and is creator of the Compass Project, a guerrilla poetry sticker initiative that has traveled across the globe spreading positivity.

A crusader for culture in her hometown borough since her college years, Audrey has been widely recognized for her work in its artistic/literary communities by presenting a unique circuit of events and creative opportunities marked by a wondrous spirit of empowerment and exploration. She has been featured on NY1 TV, Queens Public TV, and in many local publications/media, has curated shows for LaGuardia Performing Arts Center, the Historic House Trust, and Queens Museum, and performed at venues around NYC including Queens Council on the Arts, Bowery Poetry Club, Brooklyn Museum, Flushing Town Hall, Dixon Place, and the NYC Poetry Festival. She can usually be found: writing on everything, riding her bike, climbing trees, pushing the edges of reality...

And of course, stoking the flames. Learn more at audreydimola.com.
Please join Audrey and all our incredible readers for Line Break #6, Saturday, April 1, 3:00 p.m. at Q.E.D. in Astoria. Tickets are only 7 bucks!