Line Break Reading Series
Saturday, February 4, 2017, 3:00-4:30 p.m.
Q.E.D.: A Place for Show & Tell
27-16 23rd Avenue
Astoria, NY 11105
Admission $7. Beer, wine and snacks available.
Jacob M. Appel
is the author of several novels and more than 200 short stories. His prose has won numerous awards, and he holds several advanced degrees, including an M.D. from Columbia University, a J.D. from Harvard Law School, and an M.F.A. from NYU.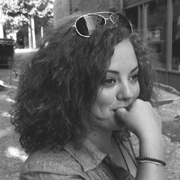 Sarah Riccio
is a curmudgeonly Astoria local who, when she's not slinging craft beer to the people of Ditmars Boulevard, justifies her hedonistic tendencies by writing about them.
And many more TBA!